Contact Us
We're here to help, so hit us on any of the channels below or scroll on down for the contact form.
Email
BARCELONA BOATS Email
san sebastian surf Email
Phone
WhatsApp
BARCELONA BOATS WhatsApp
SAN SEBASTIAN SURF HOUSE WhatsApp
Social
Global Hobo | La Tomatina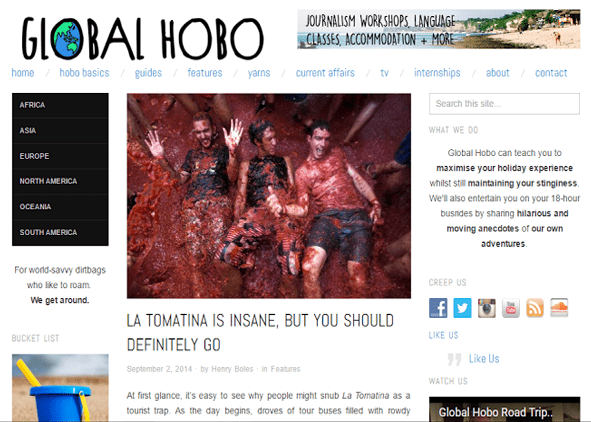 LA TOMATINA IS INSANE, BUT YOU SHOULD DEFINITELY GO
At first glance, it's easy to see why people might snub La Tomatina as a tourist trap. As the day begins, droves of tour buses filled with rowdy Australians and Go-Pro cameras swarm the towns' entrance, equipped with lame tomato-themed t-shirts and cheap canvas shoes from Primark. The Tomatina's saving grace, however, is the international crowd it manages to draw. For one summer day, Buñol plays host to everyone from giggly Japanese schoolgirls in plastic pink high heels to middle-class Indian tourists in speed dealer sunnies and three-quarter-length denim jeans. Anyone, regardless of age, race or background, comes willing to hurl and be hurled at. It makes for a good time. As a man who stood in the thick of it, believe me – there is nothing more exhilarating than ditching a handful of rotten tomatoes at the face of a decrepit Chinese lady, only to turn around to a large German man waiting to smoosh a whole one in your eyeball.
The day begins as some 40 000 people descend the hill into the Buñol town square. From the heights of town houses, locals peep through the protective blue-and-white tarps that cover the sides of their home to watch, point and squirt hoses of water at the punters who squeal in delight, chanting "Agua, agua, agua!" desperate for some refreshing relief from the 35-degree sun. The chanting continues – "OLE, OLE, OLE!" and the opening chords to Seven Nation Army fill the streets. If you've been to a Spanish festival before, you may have observed this strange tradition. No one knows why the Spaniards have an inclination for The White Stripes 2003 rock anthem – they just do.
Do you want to read the whole article? Of course you do, the article is great!! Check it out here: http://globalhobo.com.au/2014/09/02/la-tomatina-is-insane-but-you-should-definitely-go/