Contact Us
We're here to help, so hit us on any of the channels below or scroll on down for the contact form.
Email
BARCELONA BOATS Email
san sebastian surf Email
Phone
WhatsApp
BARCELONA BOATS WhatsApp
SAN SEBASTIAN SURF HOUSE WhatsApp
Social
Backpacker Travel | 7 Tips To Survive La Tomatina
Uncategorized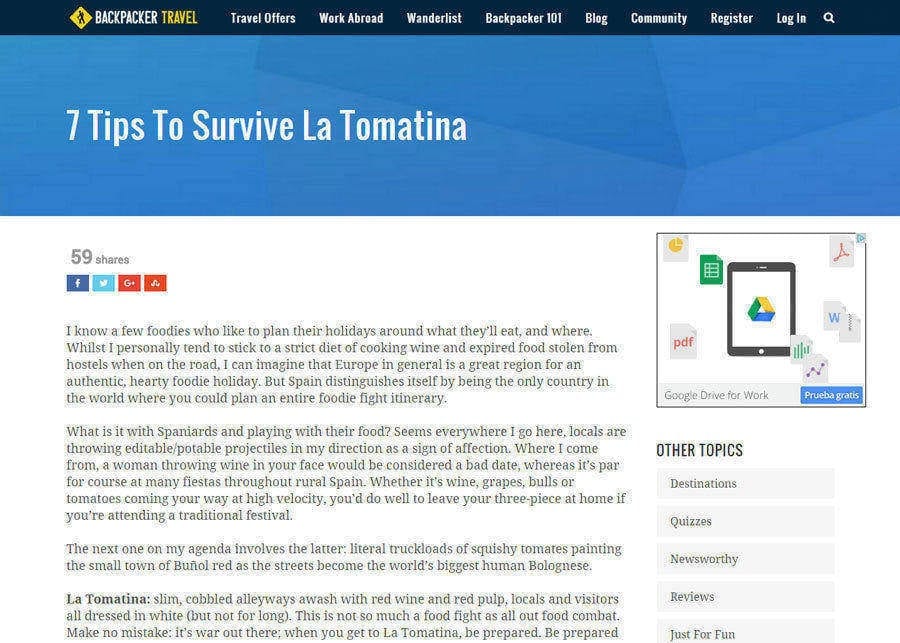 Backpack Travel is already a fan of La Tomatina! Are you?
I know a few foodies who like to plan their holidays around what they'll eat, and where. Whilst I personally tend to stick to a strict diet of cooking wine and expired food stolen from hostels when on the road, I can imagine that Europe in general is a great region for an authentic, hearty foodie holiday. But Spain distinguishes itself by being the only country in the world where you could plan an entire foodie fight itinerary, La Tomatina.
What is it with Spaniards and playing with their food? Seems everywhere I go here, locals are throwing editable/potable projectiles in my direction as a sign of affection. Where I come from, a woman throwing wine in your face would be considered a bad date, whereas it's par for course at many fiestas throughout rural Spain. Whether it's wine, grapes, bulls or tomatoes coming your way at high velocity, you'd do well to leave your three-piece at home if you're attending a traditional festival.
The next one on my agenda involves the latter: literal truckloads of squishy tomates painting the small town of Buñol red as the streets become the world's biggest human Bolognese.
La Tomatina: slim, cobbled alleyways awash with red wine and red pulp, locals and visitors all dressed in white (but not for long). This is not so much a food fight as all out food combat. Make no mistake: it's war out there; when you get to La Tomatina, be prepared. Be prepared not to eat tomatoes again for the next two years. Be prepared to smell like a waterlogged pizzeria. Be prepared to laugh at old ladies being hit in the face with older fruit. Be prepared, soldier; arm yourself with the following intel from a few veterans for the awesomest possible time.
Do you want to read the whole blog post? Sure you do, it is worth it! Check it out here:
http://www.backpackertravel.org/travel-blog/destinations/7-tips-to-survive-la-tomatina/