Contact Us
We're here to help, so hit us on any of the channels below or scroll on down for the contact form.
Email
BARCELONA BOATS Email
san sebastian surf Email
Phone
WhatsApp
BARCELONA BOATS WhatsApp
SAN SEBASTIAN SURF HOUSE WhatsApp
Social
Backpacker Travel | Are You A Skier Or A Snowboarder?
Uncategorized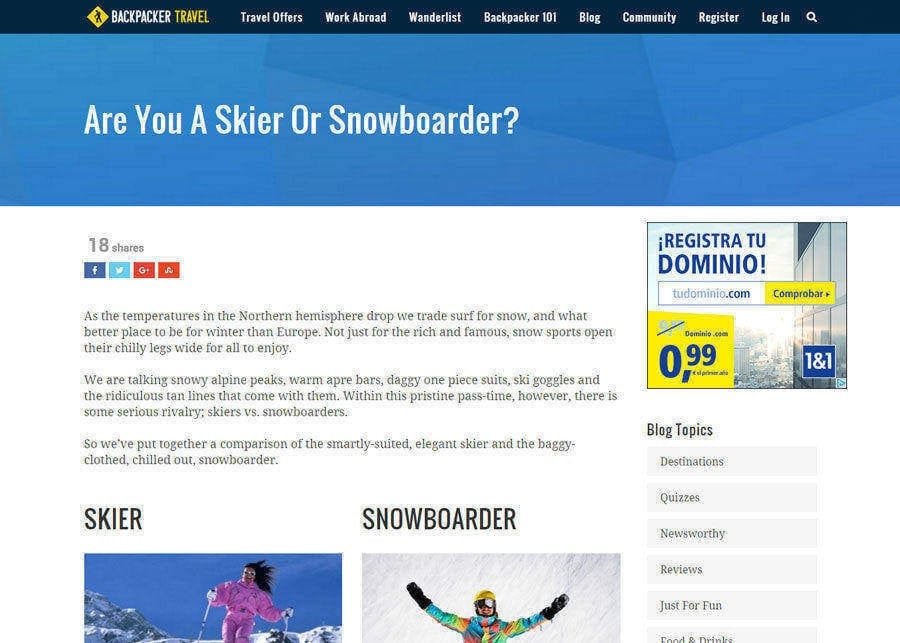 Backpacker Travel is already a fan of Andorra Snow Weekender! Are you?
As the temperatures in the Northern hemisphere drop we trade surf for snow, and what better place to be a skier or snowboarder for winter than Europe. Not just for the rich and famous, snow sports open their chilly legs wide for all to enjoy.
We are talking snowy alpine peaks, warm apres bars, daggy one piece suits, ski goggles and the ridiculous tan lines that come with them. Within this pristine pass-time, however, there is some serious rivalry; skiers vs. snowboarders.
So we've put together a comparison of the smartly-suited, elegant skier and the baggy-clothed, chilled out, snowboarder. Are you the skier or snowboarder?
What about you, are you a skier or snowboarder?
One thing we know for sure that both sides have in common is the love of Apres Ski, a daily ritual in which they both unclip, loosen up and pickle themselves in a wondrous mix of Jagermeister, beer, schnapps, mulled wine and pretty much anything they can get their hands on.
No matter the side, you will be up on the bar dancing arm in arm with your forgotten rival singing songs you don't understand.
If you are looking for a snow holiday with more bang for your buck, try Andorra on for size. This tiny tax-free principality sandwiched between France and Spain offers great snow and smaller crowds.
For weekend trips leaving from Barcelona, check out Stoke Travel. Be sure to stock up on tax-free booze while you're there, especially the 90% unnamed alcohol that will get you on your way in one swig. So what are you, a skier or snowboarder?
Do you want to read the full blog post? Do not hesitate, it's worth your time! Check it out here:
http://www.backpackertravel.org/travel-blog/just-for-fun/are-you-a-skier-or-snowboarder/