Contact Us
We're here to help, so hit us on any of the channels below or scroll on down for the contact form.
Email
BARCELONA BOATS Email
san sebastian surf Email
Phone
WhatsApp
BARCELONA BOATS WhatsApp
SAN SEBASTIAN SURF HOUSE WhatsApp
Social
Backpacker Travel | Oktoberfest, German's Biggest Pissup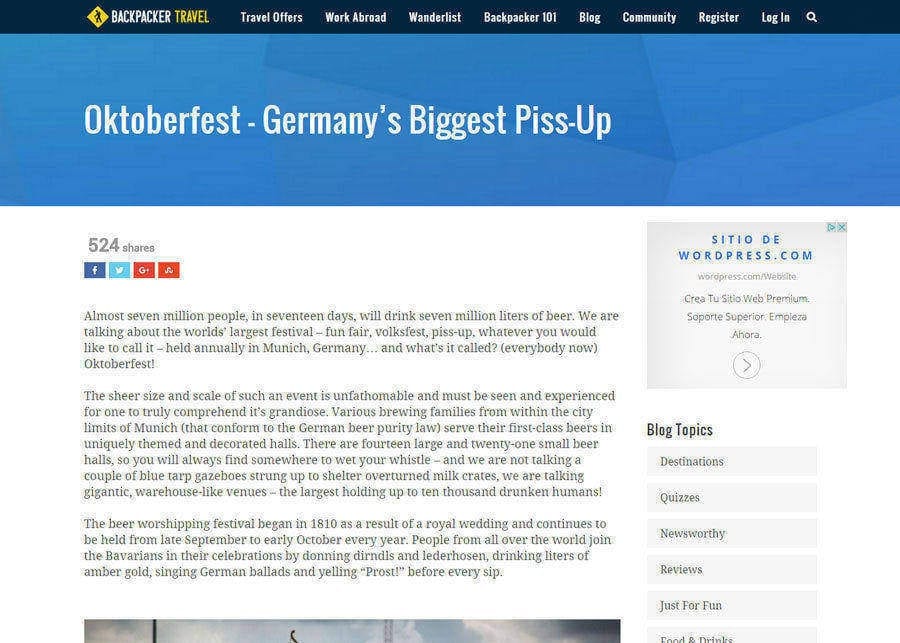 Backpacker Travel is already a fan of OKTOBERFEST IN GERMANY! Are you?
Almost seven million people, in seventeen days, will drink seven million liters of beer in Germany. We are talking about the worlds' largest festival – fun fair, volksfest, piss-up, whatever you would like to call it – held annually in Munich, Germany… And what's it called? (everybody now) Oktoberfest!
The sheer size and scale of such an event is unfathomable and must be seen and experienced for one to truly comprehend it's grandiose. Various brewing families from within the city limits of Munich (that conform to the German beer purity law) serve their first-class beers in uniquely themed and decorated halls. There are fourteen large and twenty-one small beer halls, so you will always find somewhere to wet your whistle – and we are not talking a couple of blue tarp gazeboes strung up to shelter overturned milk crates, we are talking gigantic, warehouse-like venues – the largest holding up to ten thousand drunken humans!
The beer worshipping festival began in 1810 as a result of a royal wedding and continues to be held from late September to early October every year. People from all over the world join the Bavarians in their celebrations by donning dirndls and lederhosen, drinking liters of amber gold, singing German ballads and yelling "Prost!" before every sip.
Do you want to read the whole blogpost? Of course you do, it is worth it! Check it out here!
http://www.backpackertravel.org/destinations/oktoberfest-germanys-biggest-piss/