Contact Us
We're here to help, so hit us on any of the channels below or scroll on down for the contact form.
Email
BARCELONA BOATS Email
san sebastian surf Email
Phone
WhatsApp
BARCELONA BOATS WhatsApp
SAN SEBASTIAN SURF HOUSE WhatsApp
Social
First Impressions: Barcelona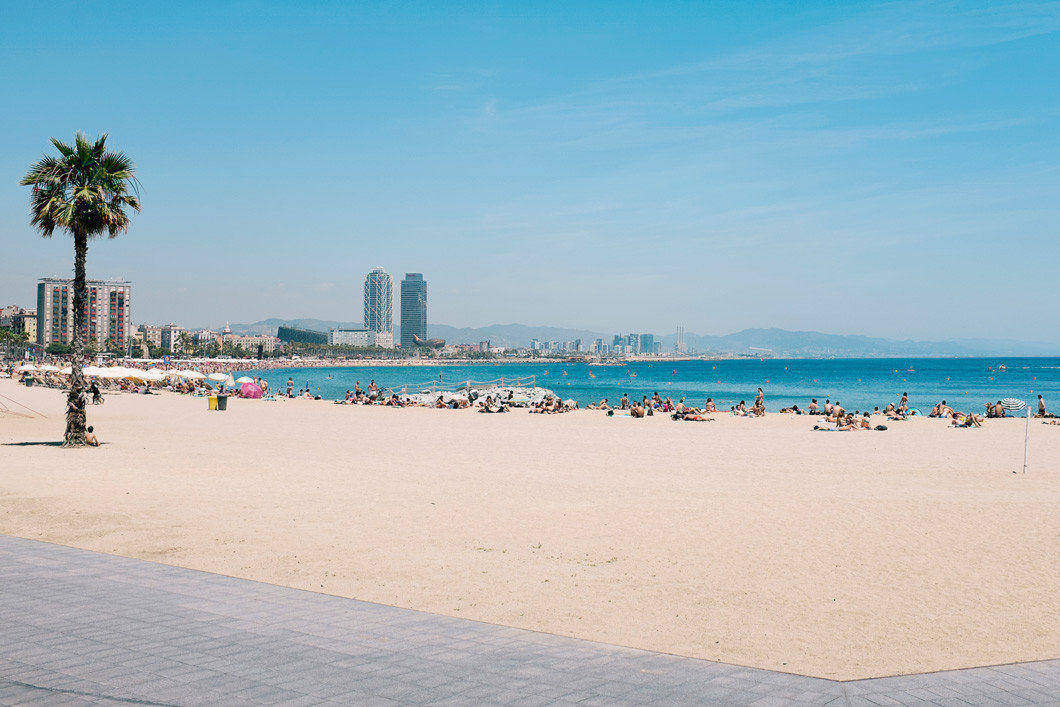 My first impressions of Barcelona, AMAZING!
Stepping out of the airport doors I was greeted with a wave of hope, heat and durrie smoke to remind me that I was back in Europe, great first impressions of course. Passively smoking, I followed the cigarette puffing gentlemen to the Aerobus line. I rode to Plaça Catalunya wearing that goofy smile you get when embarking on a new adventure and are feeling all sentimental and inspired about this 'big life moment'. Any wistful tenderness was quelled when I arrived at my new home and had to face the reality of living with 22 other humans in a house made to comfortably hold a quarter of that amount. Let's just say, it's not exactly spick and span.
After spending the prior 23 hours in transit – and only just recovering from a three- day music festival in San Francisco – I needed a shower, and a fucking nap. Slightly more refreshed after the siesta I joined my new housemates in the loungeroom and began to talk shit and forge friendships. As per usual, there were a bunch of rowdy Aussies, although almost outnumbered by our not so distant neighbours – New Zealanders, and it wasn't long before we were all cosily seated around a table in a nearby bar.
Here I was introduced to the deceiving yet potent 'Leche de Pantera', and after we drank enough of the milky drink we proceeded to the annual 'Festa Major de Gracia' for some Saturday night celebrations. My arrival happened to coincide with this week-long street festival that takes over the older part of the Gracia district and ignites the community spirit and intensifies alcohol consumption. It was easy to get lost in the music and the madness as you walk the maze of streets, especially when you're curdling the leche with caña after caña (cup o' beer).
The weather was significantly better on Sunday and it was taken advantage of by sunbaking topless at the crowded seafront; Barcelona takes pride in having transformed a dirty port into a beach, but it doesn't stop people from having sex all over it in the wee hours of the morning after a big night clubbing, so beware for those little plastic 'balloons'. It's a great place to get all Spanish, tanning your ta-tas and drinking mojitos surrounded by leather-skinned Euros…Hours later, skin stiff and red, we returned to the Stoke house with plans to do nothing, but FOMO got the better of me and I instead set off on a walk with some other Stokies up Montjuic with pan, queso y cervezas (bread, cheese and of course, beers).
Very glad I did, too, as watching the sun set over the city was the perfect way to end the day. The architectural skyline is as fucking random as everything else in Barcelona; from the iconic Gaudi creation that is the 'incomplete' Sagrada Familia, to the Temple of Tibidabo, and of course the weird phallic shaped building that, in the evening, glows bright blue with patches of red light, evoking some very strong STI related imagery. It is a dramatic blend of historic and futuristic architecture,
Monday marked the first day of my Stoke career, and I wandered the streets on my way to work trying to locate a grocery store (simultaneously realising they don't open until basically lunchtime). Unfortunately I was still stuck in the orientation mindset used in San Francisco where everything is gridded neatly without any slight bends or misleading narrow alleyways, which is basically the exact opposite of Barcelona. I was well lost when my attention was drawn to a bit of a kerfuffle in the street. Two adult males were fighting like schoolgirls – scratching and pulling each other all over the street. No one seemed to make any attempts to stop them and it quickly got more ferocious until one party relented. Stopping as suddenly as it started people returned to their business with little to no aftershock, and I wandered on my way, shaking my head in resignation that I will never know what to expect next.
Barcelona is a an eclectic city, if my first 48 hours are anything to go by.
---
Tagged with: Barcelona, Gaudi, Gracia, leche de pantera, Plaza Catalunya, Sagrada Familia, Tibidabo