Contact Us
We're here to help, so hit us on any of the channels below or scroll on down for the contact form.
Email
BARCELONA BOATS Email
san sebastian surf Email
Phone
WhatsApp
BARCELONA BOATS WhatsApp
SAN SEBASTIAN SURF HOUSE WhatsApp
Social
The Chosen One: Stokes San Sebastian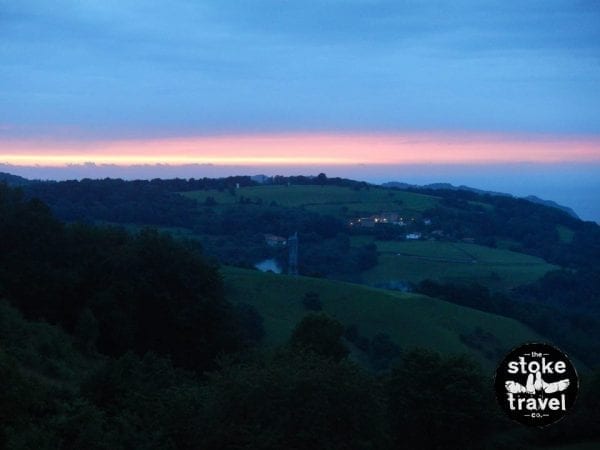 Editor's note: over the winter we ran a competition to find the "Chosen One", a one-of-a-kind, absolutely average, everyday hero who would win our Most Ordinary Extraordinary Job In The World — a summer of back-to-back Stoke Travel trips, where not only would they be expected to have the time of their life, but to also much in and set up tents/serve you heathens your beer. Well, our old mate Ryan is the winner, the Chosen One, and this is his blog about his time with Stoke Travel. Two trips down, who knows how many to go, get ready for the most fun of your life, Ryno. 
RYAN WHITAKER
Wade, the media director and my contact for this trip, drove me and the media team through the lush, rainy countryside of a province of Spain known as the Basque Country. We were headed to Aia, the town where Stoke's house on the hill overlooks San Sebastián. On our way, I was given what pertinent information I needed: There would be unlimited drink, and I would learn to surf.
The house we pulled up the driveway to was a renovated, old-style Basque farmhouse. I walked past the skateboard ramp and hung around downstairs, looking over the mass of kegs, the palette-made and room-length dining room table, the ping pong table (which hosted, but was not limited to games of ping pong), one barrel of cider (pronounced: sid-ra, for whatever reason), two beer taps (vis-à-vis kegs), furniture to lounge (read: pass out on), a small slop-sink with drying area, and bright, stained throw rugs. The top side of the house had such amenities as three bathrooms, a range of bedrooms (from very private to dorm-style bunking), a kitchen, living room, and full view of San Sebastián and its legendary wake. With everyone's undies hanging out to dry, the lingering smell of beer, and occasional squeaky boxspring, I imagined how a younger version of myself would have gladly moved my entire fraternity into the place to take the countryside by storm.
turned out to be a pretty subpar surfer, and I'm sure with practice, I could remain that way for some time; but going with Stoke to San Sebastián meant more than just a day at the beach. It meant the smell of reefer floating through the air, group massages, and topless tanning (or otherwise awkward tan lines). It meant acrobatic yoga, frisbee, and cliff jumping. It meant being able to say you had the chance to learn how to surf at one of the best beaches in the entire world to do so, and possibly feel cool about that and yourself for about fifteen seconds (absolute maximum).
And the reckless hedonism doesn't stop there. San Sebastián was known, at one time, to be the only place outside Paris to have three three-star Michelin restaurants; and so, the Stoke team, saints that they are, organize a trip into the city one night each week for a pintxos (pronounced: pinch-o's) tour. These Basque-country tapas provided a sufficient lining to the stomach for a night of bar-hopping down cobblestone streets, and could also be blamed as the catalyst for the next day's siesta. And after the trip into the city, the sunny days on the beach, or all those nights tarnishing diplomatic relations playing drinking games (everyone refused to sing "God Bless America" with me on Independence Day), it is in my expert opinion as The Chosen One to prescribe one siesta per day as necessary until you're ready to party like a Spaniard once more
.