Contact Us
---
Email
Phone
WhatsApp
Social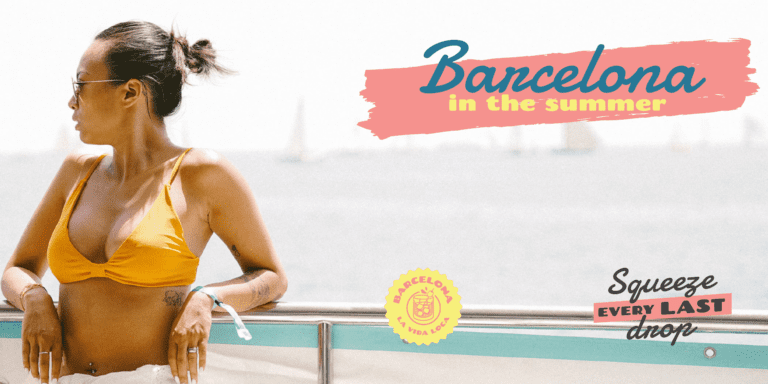 Let's Make The Most Out Of Your Time Here
Our time in Barcelona is always too short, and that's why we don't want to waste any of it on lame experiences. We've collected the best of the best here, so you have the most time to explore and enjoy the world's best city
You want to spend most of your time exploring the city's alleyways, enjoying the spectacle of the beach, stopping your friends from getting robbed, snapping the most 'Grammable shots,  marvelling at the architecture, wondering how so many beautiful people gathered in one spot, drinking all the drinks*, eating all the food**, falling in love, running away from people who have fallen in love with you… in short, there's no time for boring experiences. That's why Stoke Travel has been collecting the best experiences for the past two decades, and narrowing them down to this little list. A list of things that can't disappoint, where you'll meet tonnes of cool people, maybe learn something, have the most fun, and not waste a second of your time. We want you to make the most of your time in Barcelona – and travelling in general. We want to help you drink the wine of life, and squeeze every last drop out of the bottle.
*We actually have an experience for that
**And for that too (and it's amazing)
Barcelona's Famous Boat Parties
See the city skyline from the Mediterranean Sea, drop your dance moves on the deck, act like you're in international waters… Our Barcelona Boat Parties are beautiful, fun, relaxing and crazy. With sundecks and a dancefloor, a bar with plenty of included drinks, DJ playing whatever gets your sea legs shaking, and always filled with fascinating party people, the Barcelona Boat Party is the best way to spend an afternoon and get the party started for the evening. Most days from April to November you can choose from an Original Party Boat, BBQ & Swim Party Boat, or our Champagne Sunset Cruise.
Choose the boat party that's best for you!
The Original Barcelona Boat Party
€45
INCLUDES: ⛵ Two hours on the sea,🍹 Drink tokens, 💃 DJ and dance floor
BBQ & Swim Party Boat
€55
INCLUDES: 🐬 Three hours on the sea, 🥗🍗 Chefs lunch including Mediterranean food & BBQ, 🏊‍♀️ Swim stop, 🍹 Drink tokens included, 👯‍♀️ DJ and dance floor
Champagne Sunset Cruise
€65
INCLUDES: 🛥️ 2.5 hour cruise,🍷 Wait service for beers and local wines, 🍾 Cava (Catalan champagne) included, 🎙️ Live music, 🥘 Spanish cuisine (paella)
Or check out the full Barcelona Boat Party product page here
¿Wine Not? wine tasting – €40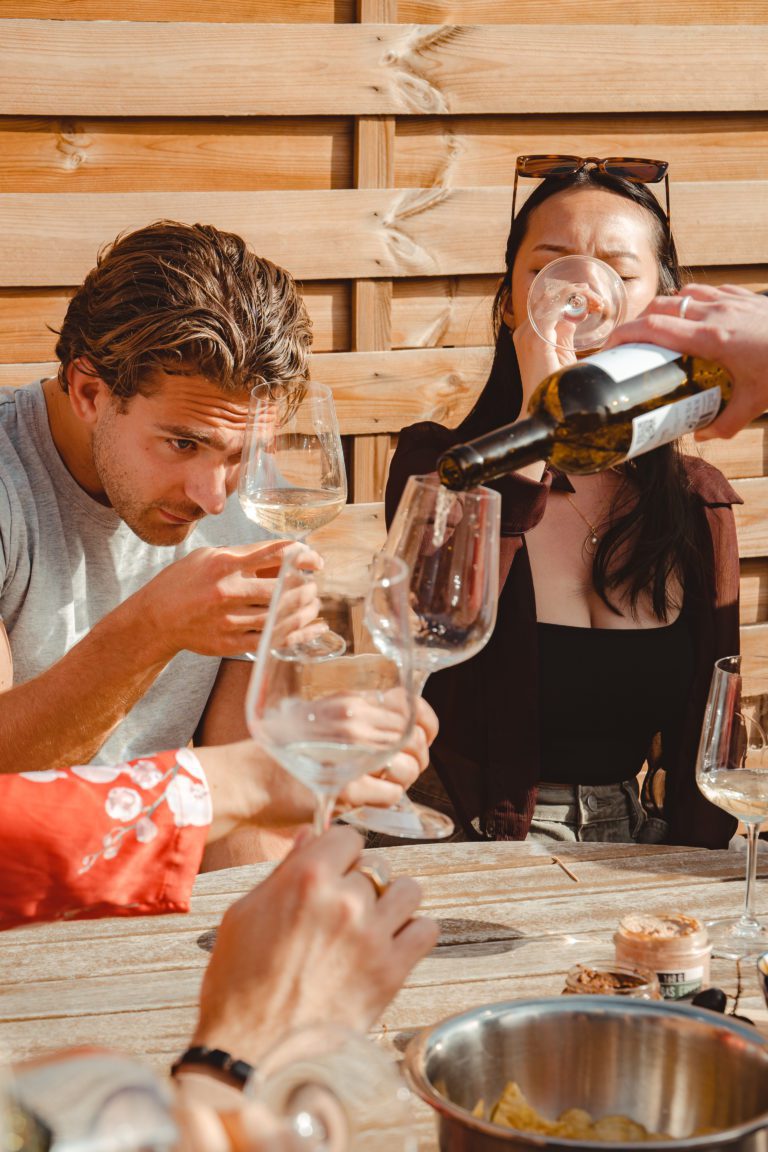 ¿Wine Not? is a Spanish wine tasting (drinking?) session that shows you the wonders of vinos from around the country without a lot of the wank associated with wine tasting. We won't tell you how a wine should taste, but encourage you to enjoy the wines yourself, while being on hand with information about where the wines are from, how they're made, and always ready with a top up. This is a party, where we meet cool people, drink a little too much, and learn about wine! Let's demystify some of these Spanish wine lists and have a whole lot of fun in the process.
🍇 2 hours
🍷Seven wines – welcome cava (sparkling), two whites, one rosé, three reds
🧀  Snacks to pair
🥴 Wine tasting information, instruction, and banter
🫒 If you've got a group we can organise bespoke tasings of whatever wines you love/want to learn about, and can even get a local chef to pair the wines with cooked tapas
Cooking classes Or cocktail classes in Barcelona – from €39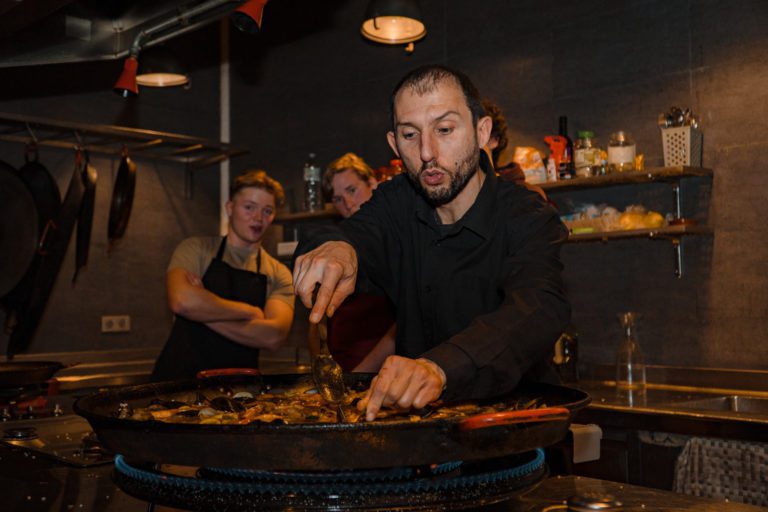 Learn something new, get merry while doing it. Our Barcelona cooking classes gets the party started, as you'll be not only preparing Spanish favourites like paella and tapas, but sangria too (and obviously tasting the lot).The cocktail classes are just that – a session mixing classic cocktails in one of Barcelona's classiest bars, and yep you can make them as strong as you'd like.
Cooking Class
🐷 3 hour kitchen party
🏺 Make traditional Spanish treats like paella, sangria and tapas
🥘 Dig in to a Spanish feast with new friends from across the globe!
Cocktail Class
🦚 Learn the history of cocktails
🍹 Tricks to the mixes
🍸 Take home the knowledge of how to serve classic cocktails (while tasting and boozing up!)
More info on the cooking class here, or here for the cocktail class
Barcelona bike and graffiti tours – from €39
See the city and learn her secrets from the back of a bike, or how about we hit the alleys and learn about Barcelona's vibrant street art and graffiti scenes. The Barcelona bike tour will take you to the city's main sights, via the surprisingly flat and abundant bike lanes that crisscross the city. See and learn about the Sagrada Familia, the historic Gothic Quarter among other sites, and stop for a boozy lunch down by the beach. The Graffiti Tour of Barcelona will take you to Barcelona's famous street art spots, plus some hidden gems, with a guide who is in the scene. 
Barcelona Bike Tour:
🚴‍♂️ Half-day exploring the best attractions in Barcelona
🕍 Frequent all the best monuments
🍺 We make time for a beer or two during the tour
Graffiti Tour of Barcelona
💣 2hr to half day options
👩‍🎤 See the city like a local
🖌️ Explore back street galleries and places to create legal graffiti
Click here for bike tours, or here for Graffiti tour info
COSta Brava Kayaking Tours
Get a bit of fresh air, exercise, and the chance to see the beautiful Costa Brava coast from your kayak. Dip in and out of secluded coves, chuck on the snorkel and mask to see what's going on beneath the surface, and find somewhere with plenty of sun for a picnic lunch and an ice cold beer.
Inclusions:
🚣‍♀️ Transport to Costa Brava and kayak with gudie
🐡 Snorkel and mask to see the underwater entertainment
🧀 Picnic lunch, water and cold beer
Costa Brava Kayaking info, here!
So, what do you want to do?
Let's not waste any time while you're in barcelona
Flexible
Fuck plans, Follow your heart with laxed T&Cs
Personal & inclusive
Travel is only as good as the people you are with.
Wild, unpredictable, & unique
Not one Stoke trip will be the same as the last!
Great value for money
Travel should be cost efficient affordable.
Broadening horizons
Travel is about the people and the stories.
Relevant
Keeping up with the times, staying hip, cool, and trendy.