Contact Us
We're here to help, so hit us on any of the channels below or scroll on down for the contact form.
Email
BARCELONA BOATS Email
san sebastian surf Email
Phone
WhatsApp
BARCELONA BOATS WhatsApp
SAN SEBASTIAN SURF HOUSE WhatsApp
Social
Breaking News: Catalan Independence To Be Decided By El Clasico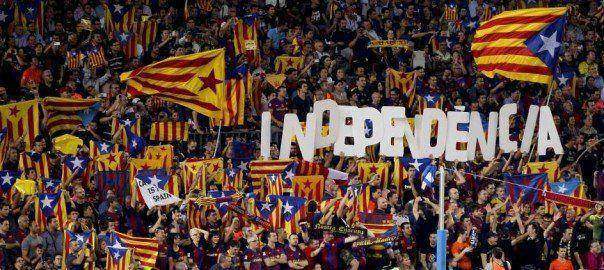 The intense rivalry between Spanish football teams, Real Madrid and Barcelona FC, didn't come about by accident. The standing of the two provinces politically has always been competitive. Madrid, the capital of Spain (and seat of the royal family) has historically been the region promoting conservatism.
Barcelona, on the other hand, has always been at the forefront of fashion, republicanism, etc. and many independence advocates see it as a more progressive state. Add to this the Spanish civil war, the controversial di stefano signing, and the perennial dispute over who is best player in the world (Messi or Ronaldo) and you have yourself one crazy goddamn rivalry.
*cue high pitched whistles*
So where does Catalan independence fit in? Well, Barcelona is the capital of Catalonia, a region of which some 80% of people want to secede from the rest of Spain. The supporters of this movement have forever been protesting their political views both in and out of the stadium. Many people in Madrid (and the rest of Spain) are offended by this and el clasico has become a focal point for something rather larger than football.
At Stoke we've been doing some serious geopolitical analysis, and we've decided the best solution would be a massive partido between the two giants. Here are five watertight reasons why…
1. It would be a hell of a game: being a Madrid supporter in Barcelona a couple weeks ago was a nerve wracking experience – and not just because we were one goal down until the last minute. In a cerveceria full of catalans and beer, it was a wonder no tapas were thrown when I jumped out of my seat as red card waiting to happen committed defender Sergio Ramos headed home the equaliser. Imagine if the stakes were raised….
2. There's not enough tension between Madrid and Barcelona already: if ultras are letting off flares, smoke bombs, banging drums, brandishing Spain flags and singing viva españa and anti catalan songs already (whilst Catalan fans chant for independence at every home game on minute 17, to mark the year 1714, when the region last had complete autonomy), just imagine the ambiente at a game that actually would decide Catalan independence…
3. According to many dubious, non-binding polls (so questionable we're not going to bother linking them), every Barcelona player (every single one of them) wants Catalan independence. And if they can beat a fired up Real Madrid they deserve it, right?
4. It's a complicated issue that would never otherwise be solved: we all know that politicians never get anything done. And that's as good a reason as any to just say fuck it let's do something loco (ain't that right, 47% of the US)…
5. Because Stoke's Media Team never get anything wrong: we're a team of incredibly intelligent political advisors, wine drinkers, and all round alumni of the school of life, man…
If you want to actually learn something about this issue have a peep over here. Otherwise – you're welcome for the political analysis.
Hasta luego chicos,
Stoke