Contact Us
We're here to help, so hit us on any of the channels below or scroll on down for the contact form.
Email
BARCELONA BOATS Email
san sebastian surf Email
Phone
WhatsApp
BARCELONA BOATS WhatsApp
SAN SEBASTIAN SURF HOUSE WhatsApp
Social
Budget Flights In Europe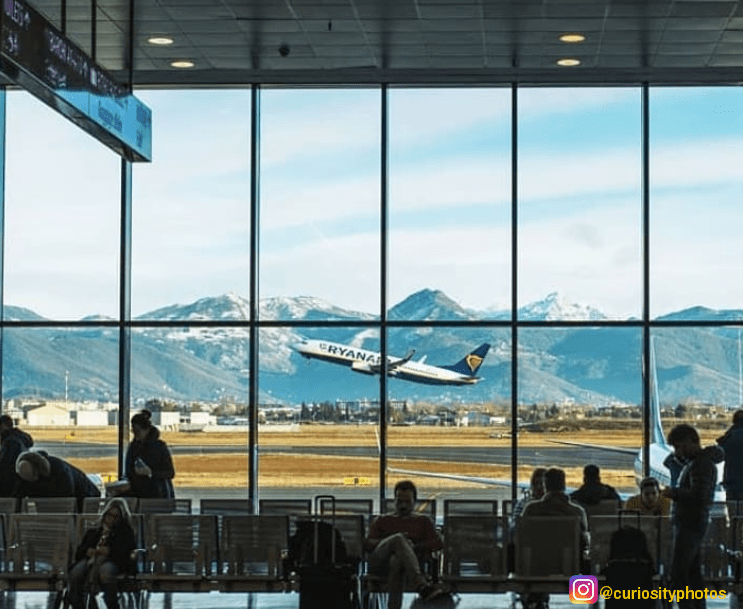 Because sometimes jumping on that big bird is not only the most convenient way to travel, it can be the cheapest too. Welcome to the world of budget European airlines.
Air travel might not have been the first thing you expected to find in our guide to backpacking Europe, but sometimes it just makes so much sense. Whether it's to cover a long distance, or to cross an otherwise difficult-to-ass geographic feature, like a sea or mountain range, air travel can be a wonderful addition to your menagerie of budget-Euro-travel options. The ability to travel greater distances at a cost equal to, or even sometimes less than, other land-bound transport options allows you to create more fanciful itineraries, where you can plan your trip using flights to get you into different regions, which you then explore by train, car, bus or foot, before shooting off to a different corner of the continent.
Europe has a varied and competitive budget airline sector, dominated by names you know, like Ryanair and Easyjet, and increasingly Norwegian Air, which has even added trans-Atlantic flights to its roster for a sneaky backdoor exit, or entry, to the continent. Easyjet and Ryanair are classic budget airlines in the tight-ass mould, charging extra for everything and delivering as little as possible, but if it's A-to-B that you want for as little $ as possible, knowing the deal and booking prepared will keep your outlay at a minimum.
These budget airlines, along with a raft of more local operators, will get you in, if not within striking distance, of all cities and most regions in Europe. And with flights between European cities going for as little as €10, but can go up to €200, the trick comes down to finding the right flights, at the best price.
Finding Budget Flights In Europe
The modern budget airline doesn't punish you for taking one-way flights, with each sector priced according to how sought after it is. This means that you can use different airlines for your return or you could fly into one city and out of another without paying a penalty. The key is to always book early, where possible, as budget airlines recoup some of their low-price losses by charging a lot more for last-minute desperados, and to be flexible with both your dates and your arrival airport. With European cities generally pretty close to one another, you can fly into Bilbao instead of San Sebastian, for example, and endure a one hour, €5 bus trip, while saving big bucks due to your flexibility.
One thing to be careful of when booking with multiple airlines is to ensure that you have plenty of time for any connections that you'll have to make. You will not be compensated for flights missed when an earlier, separate, booking comes in late, and budget airlines will semi-regularly run late.
Aggregating tools like Skyscanner and Kayak are great for comparing different airlines and being flexible with dates, but Google Flights, with its explore function and interactive map, will not only let you search the best dates for your trips, but also allow you to compare the price of different airports in the area. Google Flights also compares deals with websites like eDreams and Expedia so you get a greater breadth of options using their service. Flexibility is the key, and our ability to be less rigid with our itineraries in many regards, with a little bit of skill, makes up for our deficiency in funds. We're rich in options, not cashola!
It's also a good idea, in the trip planning phase, to sign up to the bigger budget airlines' newsletters. This way you will be informed of their often insane deals as they're released and can plan your trip accordingly.
How to save money on budget flights
So obviously budget airlines can't afford to pay pilots, hosties and put these giant steel birds in the sky for €10 a trip. They've got to make money somehow, and with the airlines it's usually with add-ons and penalties. The good thing about this is, if you know the tricks and get a flight early enough, at a reasonable price, you can avoid the additional charges and let some other sucker make up the company's balance sheets.
So you're travelling for a while, so you're going to need some stuff, but you've also adhered to our awesome packing guide so you're travelling light. Awesome. Checked baggage allowance is never included in budget fares, but you are allowed TWO cabin bags on most flights. One for your backpack and one for your handbag. Sweet! But if you are going to be over the limit, then make sure you reserve your baggage allowance when booking your flights, and avoid getting stung at the check-in counter.
Make sure that you're familiar with the terms and conditions of your ticket. Budget airlines, in Europe or anywhere, won't give you any leeway if you break them, either fining you, or making you buy an entire other ticket. For example, Ryanair requires that you check-in and print your ticket out, or download it to your phone, some time before the flight is scheduled to leave. Make sure you do this, otherwise you could see yourself with a fee greater than the initial ticket cost.
There are a bunch of add ons that the airlines will try and get you with along the way. Stay strong! You can find cheaper accommodation, or better deals on hire cars, yourself. And seeing as though you'll be keeping your itinerary open, and booking your flights in advance, who's to say where you'll be staying, or how you'll be rolling, when you arrive.
The great seat allocation scam is when some budget airlines won't let you and your friends sit together unless you purchase seat selection. Don't let them get away with this! Never pay for seat selection, take a gamble on the automatic selector, that will usually put you and your friends near each other, but not so close you can play footsie. Then see who's allocated to sit next to you. You can either have a great flight meeting a dark and mysterious stranger, or you can kindly ask if they want to swap seats with your number-one chum.  
Stokie says
"Don't get too tricky and book connections through different airports in the same city. Do you know how tough it is to get from Paris Orly to Paris Charles de Gaulle? Or from London Stansted to London Luton to London Gatwick to London Heathrow? You may think you've cracked the system and saved €50 before spending just that on a taxi and still not making it in time. Oh well, lucky you could be stranded in worst places than Luton Town…" – Neil, Festival Crew Barman Extraordinaire